Figure 20 minutes by car from SGN to downtown Ho Chi Minh City (HCMC) and up to an hour at rush "hour".
Note: There are ATM machines past customs but before exiting to the outside of the airport. If you need smaller change than what it distributes, ask a money changing booth in the same area. If you want to avoid the ridiculous fees of the Chase Bank ATM, you can walk to the Domestic Terminal (out and to the right from International) and there are a ton of Vietnamese bank ATMs there.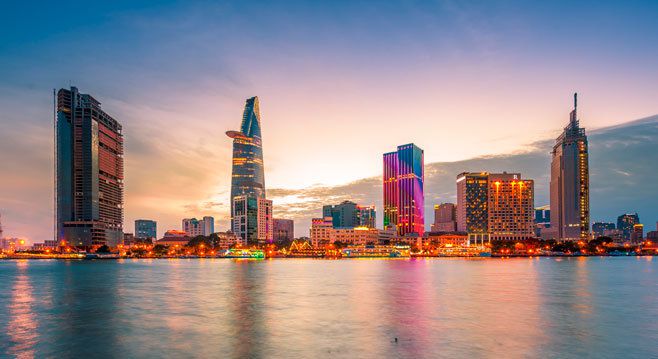 CHEAPEST METHOD FROM SGN AIRPORT TO HO CHI MINH CITY
Your cheapest method, if you are departing between 05:45 and 18:00 (check schedule to ensure these times haven't changed), would be to jump on Bus #152 (departs about every 15 minutes) at the SGN Airport (a map of the entire network is here). To find the bus, you need to head right after leaving the international terminal or a right when exiting the domestic terminal and crossing the street to the island). It brings you to Ben Thanh Market (which is not the end of the route – so look at the guide in the next paragraph) which is within the District 1 zone. The rate in January 2017 was 5,000VND. If you have a giant backpacker bag, they will charge you as if its an additional person (which it is, I suppose).
BEST VALUE METHOD FROM SGN AIRPORT TO HO CHI MINH CITY
The next method is to take the Route 109 method. This is the best value as you get a bus that can take bigger luggage, is air-conditioned, has WiFi and has an attendant who has a higher chance of speaking English. This bus goes to the bus station and then heads to the Backpacker area. It costs 20,000VND and runs from 0530 to 0130.
EASIEST MODERN METHOD FROM SGN AIRPORT TO HO CHI MINH CITY
You can use the Grab App or Uber to hail a car which currently is much cheaper than a taxi and avoids the nonsense that taxi drivers can put you through.
EASIEST TRADITIONAL METHOD FROM SGN AIRPORT TO HO CHI MINH CITY
You can get a taxi (which, if you are heading to D1/downtown shouldn't be more than $8USD – approx 160,000VND). Find an official uniformed representative in the airport or a representative/dispatcher past the taxi lines for Mai Linh or Vina Sun (exit airport and head to the left), and ask them to get you one of their cabs if one isn't waiting already. (If you want, you can write out your address and just show it to the dispatcher who will yell it to the driver and give you a card). I find Vina Sun better.
Unlike in many places in the world, there is no requirement that you have to take the "next" taxi in line, and you also don't need to go through the taxi queue. Ensure that will use the meter or agree to a fare fixed price if not (but if its Mai Linh or Vina Sun, odds are they will definitely use the meter). My taxi rides between the airport and District 1 typically come between 130,000 and 150,000VND.
source: internet